I am sure that you can recognise a red hot poker when you see one but did you realise that there were around 70 species in the genus Kniphofia?  The majority of these species grow in the eastern half of South Africa and next week I am off on an expedition to try and see as many of these as possible in the wild.
While many of the species are the typical bold red and yellow spikes, there are also more delicate species that are sometimes grown in gardens.
To understand plants in the garden, we often need to understand their behaviour in the wild. For example, it is well-known that most Kniphofia hybridise with each other very easily (try growing seeds from a cultivar of Kniphofia and see the variation that comes up) but how much of this is natural variation of wild populations or are the species really distinct? I won't be able to answer fully questions like these in 3 weeks, but I do hope that it will help me to interpret better the range of variation we see in our garden plants.
Both the Royal Horticultural Society Bursary Scheme (Blaxall Valentine Award) and the Linnean Society Percy Sladen Memorial Fund have helped fund me to spend three weeks travelling from near Port Elizabeth in the south, along the Drakensberg escarpment, to Lydenburg in the north.  During my visit I will be meeting up with Dr Snowy Baijnath and Dr Syd Ramdhani, two South African researchers who have been studying Kniphofia in the wild for many years.  I will also be guided around the northern species by John and Sandie Burrows of Buffelskloof Nature Reserve.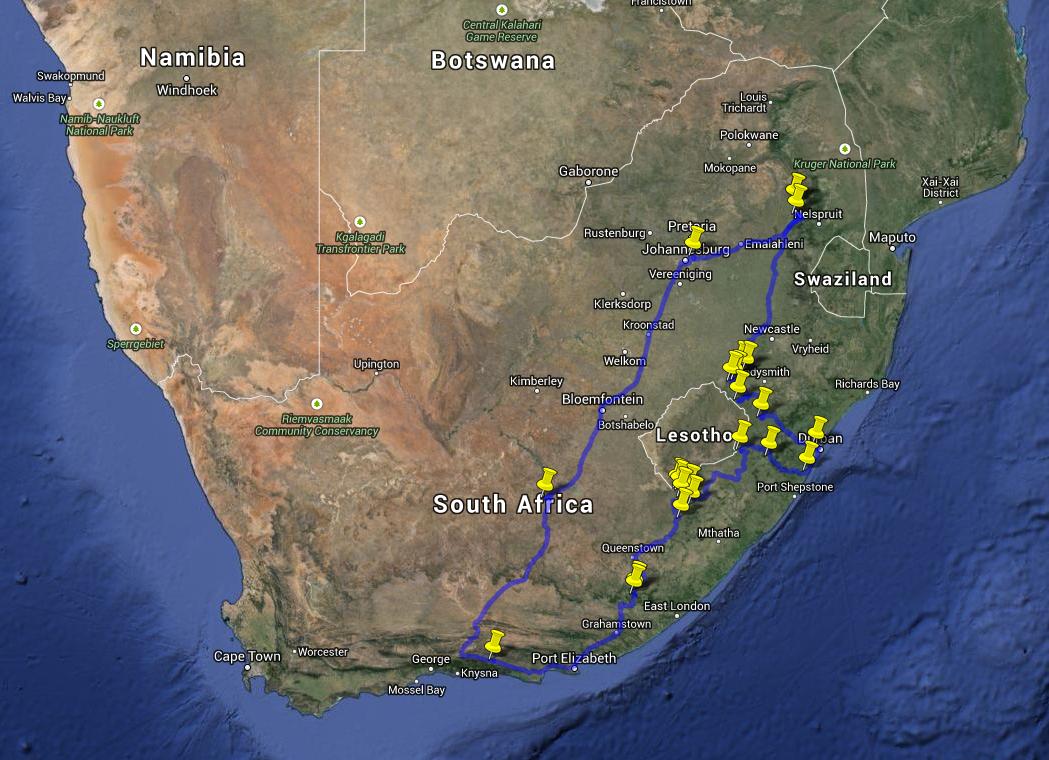 If you have a Google account, you can open it in Google Maps. This will also give an indication of the species that might be found at each locality.
I hope to be keeping a blog during my travel, access to internet permitting, so do check back on where I have been and what I have found.
Save